CBD Pure cbd oil comes from the organic hemp that is grown and harvested in Colorado and is 100% free of any artificial or synthetic ingredients.  As you probably already know from our site here at Hemp Gig, we only choose the safest products to write about and we are happy to tell you that CBD Pure is safe. 
They don't leave anything in the shadows.  They do triple-lab testing and if you would like the certified lab tests and reports on a lot number and batch, it is available upon request.
With the triple lab testing that is done on CBD Pure cbd oil, you know you aren't getting any impurities in your product that will harm your body.  That is just one of the most important things we look for when we look at CBD products.
This plant is deemed the miracle plant because it has over 50,000 uses and I'm not just talking about health uses.  But when it comes to its use for health, the benefits are endless. 
The hemp plant is full of vitamins, minerals, omegas, terpenes,  cannabinoids and much, much more.  By supplementing our bodies, we are putting ourselves back into homeostasis and our bodies are able to function the way it should.
What excites us about CBD Pure cbd oil is the fact that their products are a full spectrum product.  What that means is they use the whole plant and even though it contains .3% or less THC, there is no need to worry because there is absolutely no possible way you can get high on hemp.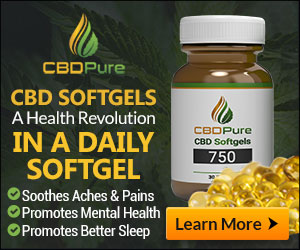 These products are trusted by holistic health professionals and people that use organic products everywhere.  CBD Pure cbd oil uses only the highest quality ingredients and are a highly reputable company.
Always keep in mind that CBD products are not like pharmaceuticals, where you notice the effects immediately.  Not to say that can't happen, but it may take a little longer to notice the effects on an individual basis.  
Always give it time to get into your system and start working.  Your body didn't go out of whack overnight, so there is not an overnight fix.  That is also why there are different milligrams of CBD hemp oil. 
Depending on what is going on with your body, you may want to start out slow and work your way up or you may need to start out with a higher milligram right off the bat.
CBD Pure CBD Oil Products
If you just want to give your health and well-being a boost, then maybe the 100 is the way to go for you.  Each serving contains 3.3 mg of natural and organic CBD hemp oil.  The best way to have it absorb into your body is by putting it under your tongue and holding for 60 seconds.  If that doesn't work for you, then try putting it in a drink or in food.
---
If you want more of a super charge to your body, then the 300 contains 10 mg of natural and organic CBD oil.  This is taken the same way as the 100.  To absorb into your system quickly, place the serving size under the tongue and hold for 60 seconds or put in food or a drink.
---
If you think you would like to start out with a higher milligram of CBD, then you might want to take a look at the 600.  This 600 contains 20mg of CBD hemp oil per serving and is taken the same way as the others. 
---
Maybe you are one of those that find it easier to take a capsule.  This bottle comes with 30 capsules and 25 mg of CBD per capsule.  I find if I have a lot going on in my body, this is what works for me.
Whichever product you decide to go with, you won't be disappointed.  Like I mentioned above, give it time to get into your system and let it do its job.